Quote of the Day (15) Nelson Mandela
Hanwell Celtic / Posted: 01/04/2021
We have finished the Race Europe challenge. It has been an honour and privilege to be a member of The Covered End Choir superbly led by Captain Bob Bolder. Quote of the day (15) Nelson Mandela: 'Sport has the power to change the world. It has the power to inspire. It has the power to unite people in a way that little else does. Sport can awaken hope where there was previously only despair.' Nelson Mandela 2006.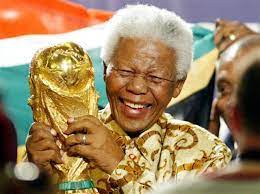 Quote of the Day (15) Nelson Mandela
Hanwell Celtic / Posted: 01/04/2021
We have finished the Race Europe challenge. It has been an honour and privilege to be a member of The Covered End Choir superbly led by Captain Bob Bolder. Quote of the day (15) Nelson Mandela: 'Sport has the power to change the world. It has the power to inspire. It has the power to unite people in a way that little else does. Sport can awaken hope where there was previously only despair.' Nelson Mandela 2006.
Quote of the Day (14) Scott Minto
Hanwell Celtic / Posted: 25/03/2021
'I look back on my time at Charlton Athletic like my first love. Everything went really well and it was just a fantastic club and I really enjoyed the family atmosphere... The biggest highlight was going back to The Valley in December 1992… We won 1-0 and Colin Walsh scored the winner. Even though it was all around me I still did not quite appreciate what it meant for the club. I was still a young lad at the time of only 21. You do know but you don't quite know with people coming up to you what it means to get back to The Valley. I also think that it was one of the most important games and periods in Charlton Athletic's history to get that ground back, and to think that I was involved at that particular time was absolutely amazing.'
https://worldfootballindex.com/2020/05/scott-minto-on-chelsea-charlton-and-his-biggest-achievement-moving-to-benfica/ May 30th 2020.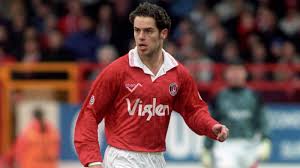 Quote of the Day (13) Dean Kiely
Hanwell Celtic / Posted: 23/03/2021
'I'm a footballer, a commodity, a piece of meat, call it what you will, but at Charlton they care about their commodities, they care about their players and as player it is rare that you get that feeling at a club. The first touch was that they couldn't do enough for me. They really helped me settle into the area, little steers about where to live and schools. They were really supportive and that meant it was turning up with your boots and gloves and cracking on – get in the team. You play your best football when you're at your most comfortable, and by that I mean when everything is taken care of and all you need to focus on is why you're there – the football.' Dean Kiely, Michael Walsh 'When Football was Football: Charlton Athletic - a nostalgic look at a century of the club' London: Haynes, 2014.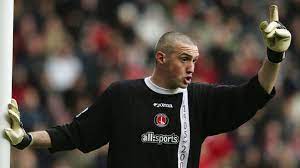 Quote of the Day (12) Chris Powell
Hanwell Celtic / Posted: 23/03/2021
Quote of the Day (12) Chris Powell 'This club was dragged up from its knees by its community, and they were feeling let down. We owe it to them to pay them back for the faith they showed.' and 'Never forget that this is a beautiful game. Never ever, give less than everything you've got, and never let go of your dreams because there will be ups and downs, and it'll be tough, but it will pay you back for the effort. And when it does, it's fantastic.' Chris Powell in MailOnline, 22 February 2012.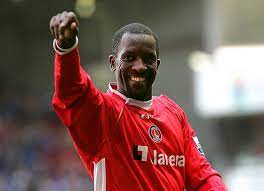 Quote of the Day (11) Alan Curbishley
Hanwell Celtic / Posted: 23/03/2021
Quote of the Day (11) Alan Curbishley 'Every club has loyal supporters, but when you think about what Charlton fans had to endure when the club moved from its home and the depth of feeling and determination they showed, I think it's remarkable.' and 'Whatever happens in the future and whatever I do in my career I know Charlton, its fans and the people I worked with during my time at the club will always represent a very special and happy period of my life.' Alan Curbishley, Valley of Dreams, London: Harper Sport, 2006, p.56 and p.392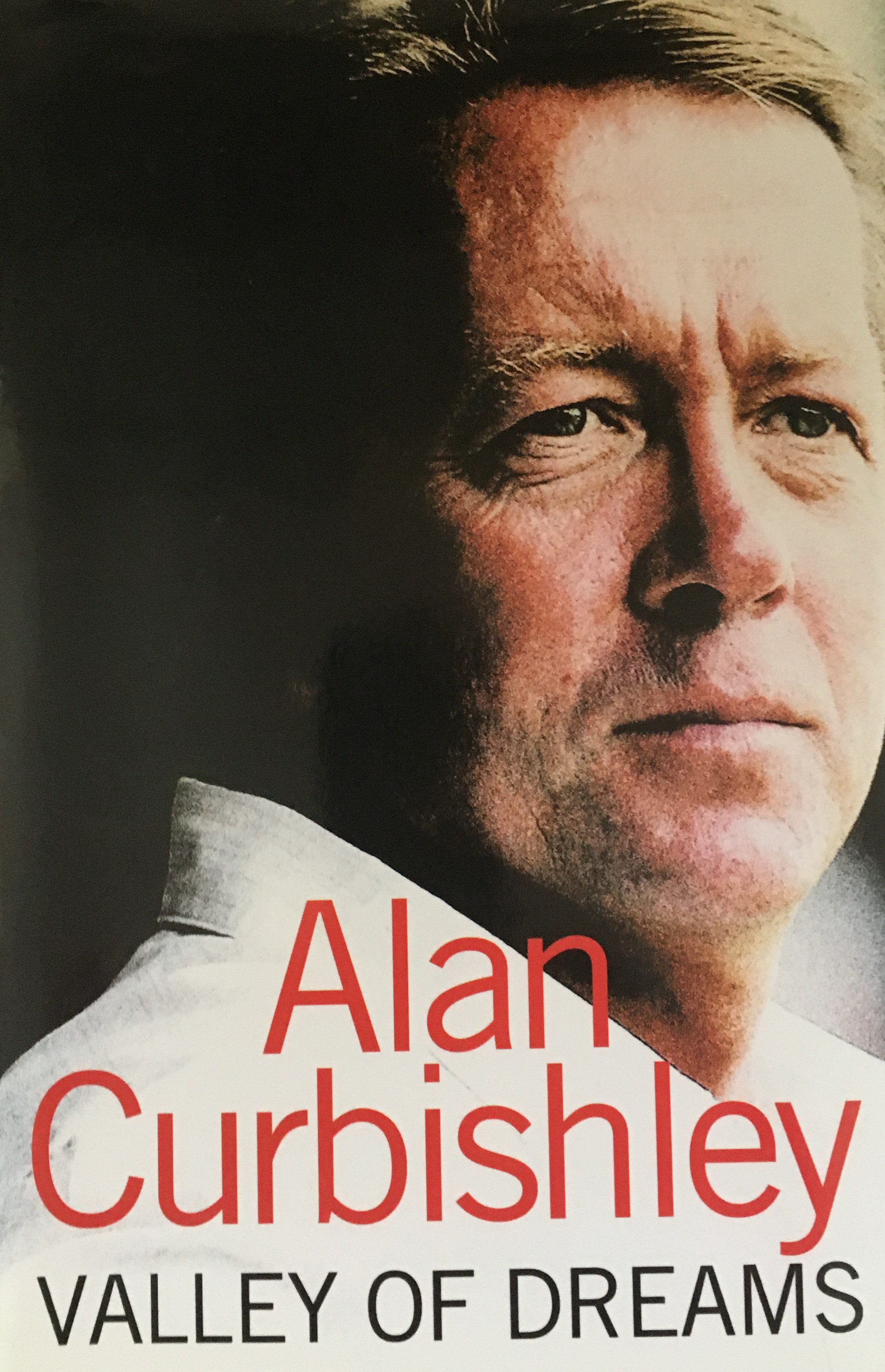 Quote of the Day (10) Eddie Firmani
Hanwell Celtic / Posted: 21/03/2021
'From the moment I arrived at The Valley, until I bought the staff champagne when I departed, I found in existence there something that the largest transfer fee in the world cannot purchase: team spirit, club loyalty (and) a respect for each other.' Eddie Firmani, Football with the Millionaires, London: The Sportsman's Book Club, 1960, p.16.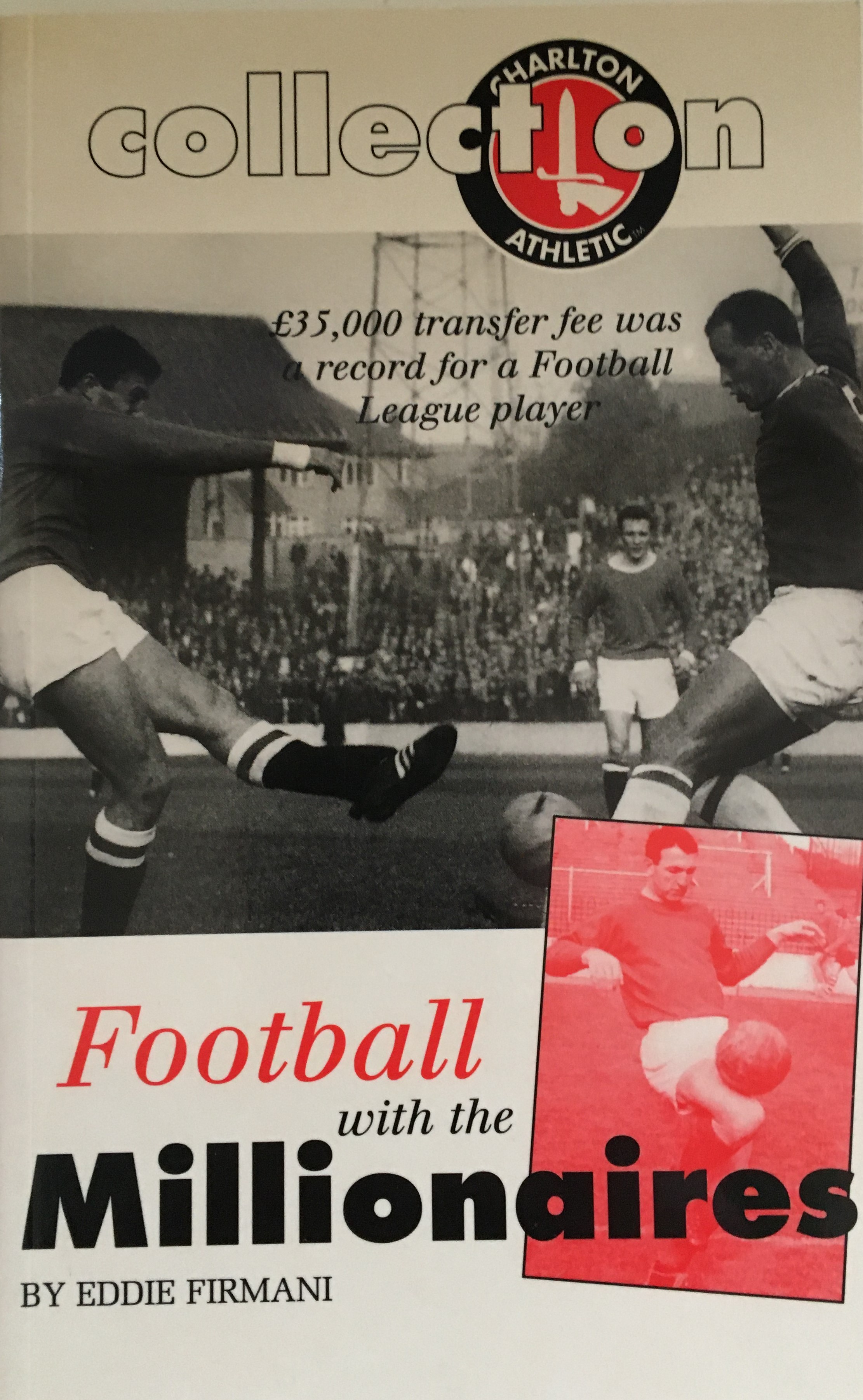 Quote of the Day (9) Sam Bartram
Hanwell Celtic / Posted: 19/03/2021
Quote of the Day (9) 'Disregard the glamour of being a star and aim at being a player of whom your team mates and everyone can say: "He never plays a bad game" Be loyal to your club and your colleagues; work hard, train hard, try hard; give of your best for the entire 90 minutes of a match - and always "play the game". For the more you are prepared to give soccer, the more it will give you in return. That is something my own long spell in the game has taught me.' Sam Bartram By Himself, London: Burke Publishing, 1956, p.155. republished by Charlton Athletic, 1996.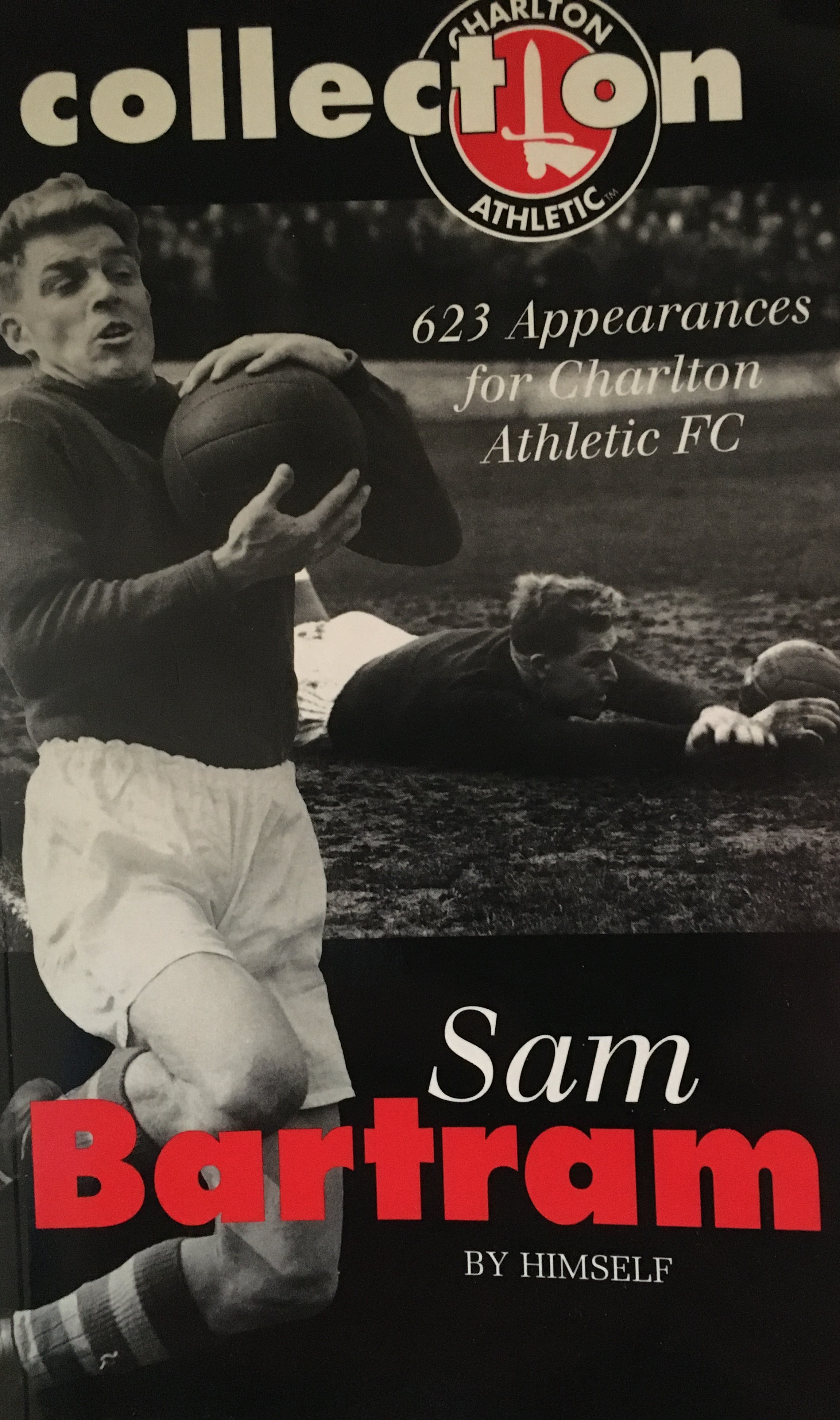 Quote of the Day (8) Bob Bolder
Hanwell Celtic / Posted: 18/03/2021
Quote of the Day (8) This is from our skipper: 'Since I retired I have been involved working with Charlton helping coaching the kids under the Charlton Athletic Community Trust. Charlton have been really good to me and it's a fantastic family club. I also do hospitality on match days and it's really good to be involved.' Bob Bolder, on Liverpoolfc.com 20/5/2014.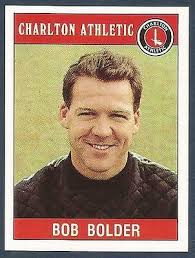 Quote of the Day (7)
Hanwell Celtic / Posted: 17/03/2021
Quote of the Day (7) St Patrick's Day Special! 'The conditions suited them more than us' (Mark Kinsella after Ireland's rain-drenched win over Saudi Arabia) 'If they'd stuck me in goal I'd I've given it my all, I'd have the green jersey on and the shamrock on my chest, that was the main thing.' (Theo Foley, normally a full back on being asked to play in midfield in a vital world cup qualifer for Ireland against Spain before the 1966 World Cup ) 'Charlton, for me, the stars were aligned. It probably became the club's golden era in terms of getting in the Premier League – and staying there for a while – and also my best period as a professional.' (Dean Kiely) 'I would have liked to carry on. I actually thought come the end of the season I would still be at Charlton. There was no thought in my head that I wouldn't be. Phil Parkinson had taken over and was saying all the right things about wanting me to stay, but there was never an offer on the table. He kept saying we haven't got a lot of money, but I was thinking, "just make me an offer – I might say yes."' (Matt Holland on wanting to stay at Charlton after the club's relegation to League 1)
'I like my defenders to be big, mean and ugly. Two out of three ain't bad. Are you mean as well? (Ray Treacy when Shamrock Rovers Manager to defender Peter Eccles.) 'Ray Treacy got 56 caps for Ireland - thirty of them were for singing.' (Eamon Dunphy)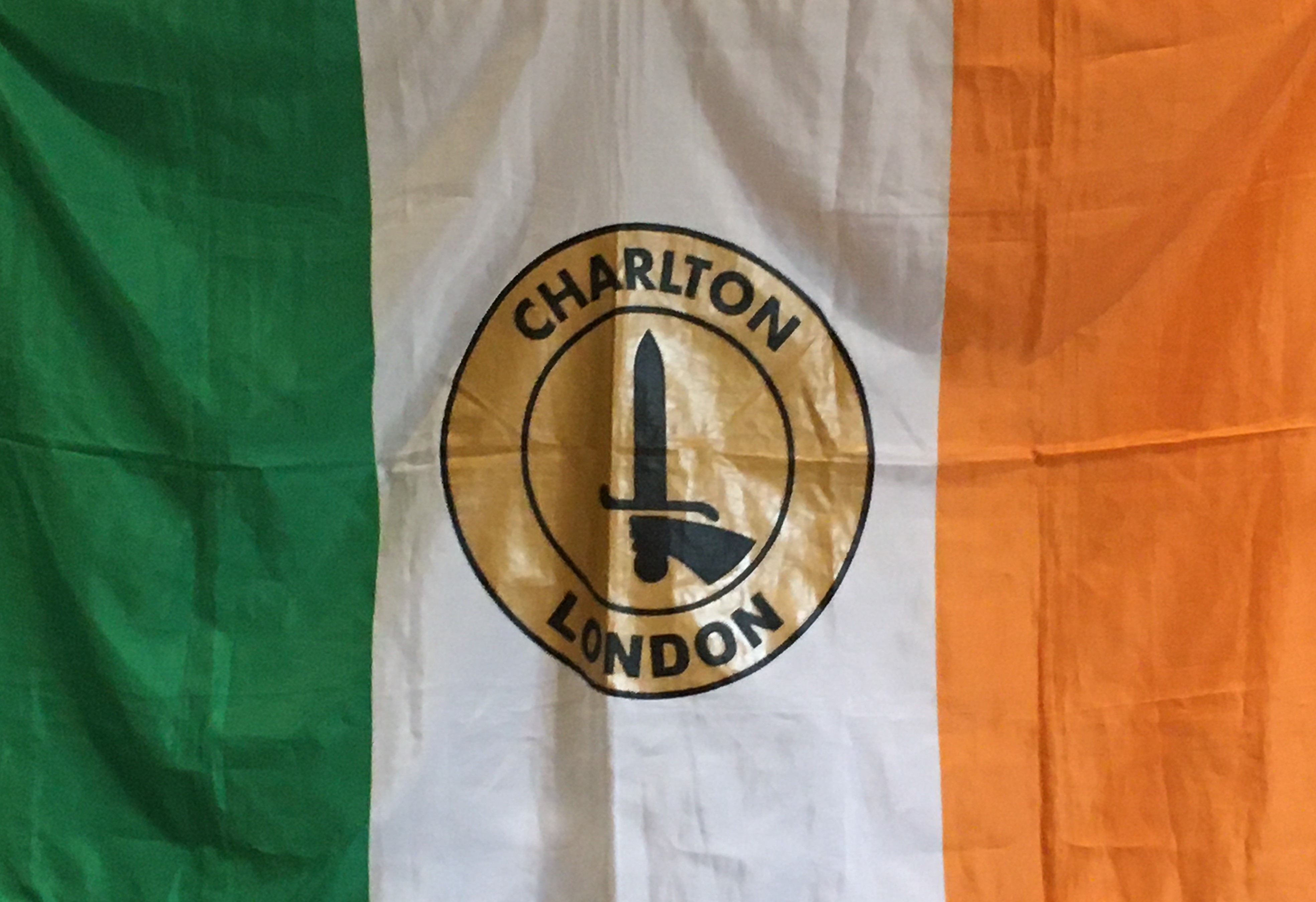 Quote of the Day (6)
Hanwell Celtic / Posted: 16/03/2021
Quote of the Day (6) 'Mine is the story of a boy -far from the best player in the world - who had a dream. There are many out there with the same ambitions I had as a youngster. I would say to them: have self belief, never stop working at it, and above all retain your humility. The ups and downs came fast and furious, so no matter what, pick yourself up and get back in the race, because that's life!' Keith Peacock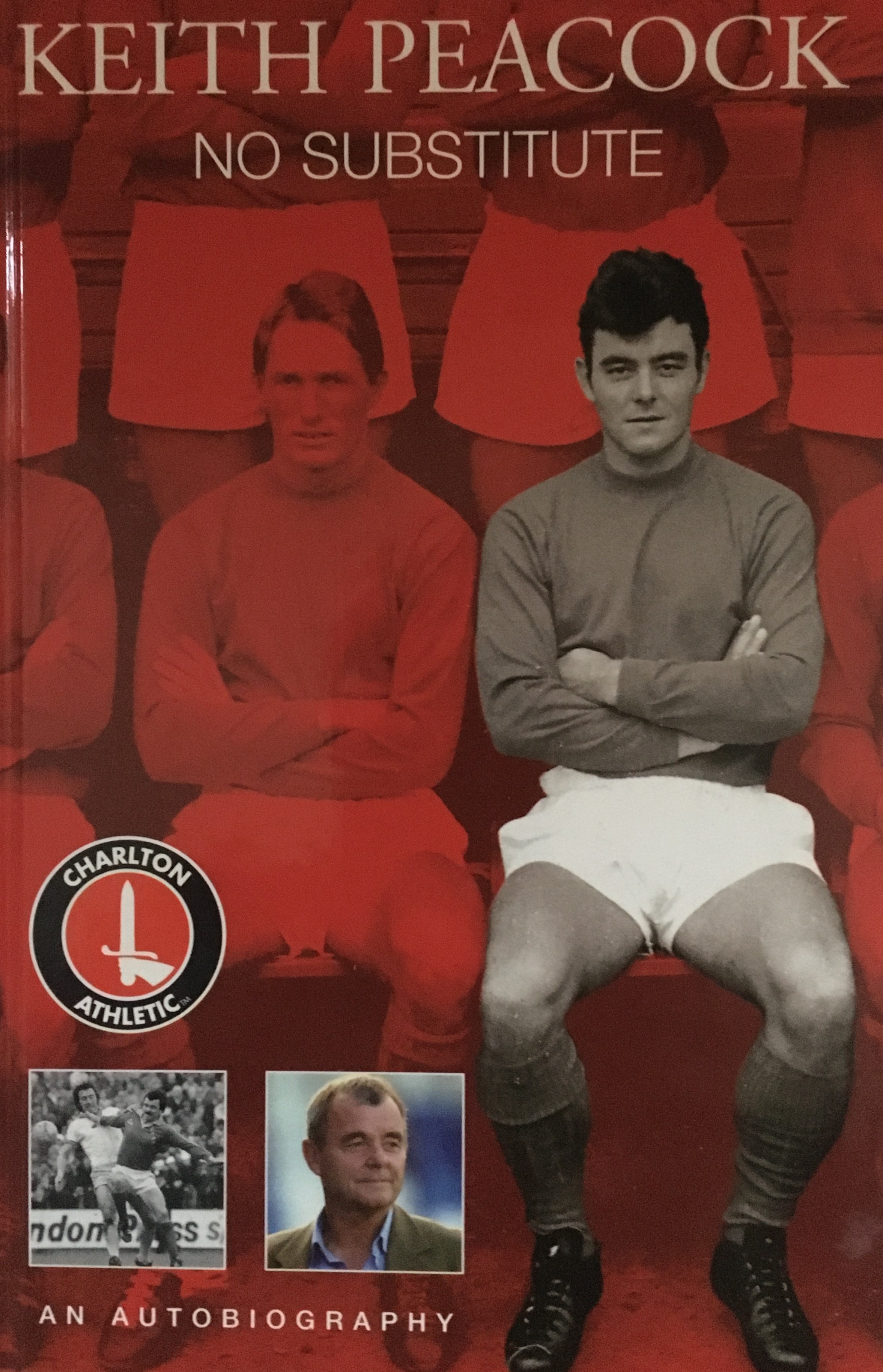 Quote of the Day (5)
Hanwell Celtic / Posted: 15/03/2021
Quote of the Day (5) 'I retain total confidence in the long-term future of what, because it is so simple in concept and so difficult to execute, is, indeed, 'the beautiful game' - a game unsurpassed in its ability to captivate....As long as I can still pull on a pair of boots, I'm going to be involved kicking a football around somewhere. It is a beautiful game.' Gary Nelson, Left Foot Forward. A Year in the Life of a Journeyman Footballer, London: Headline Book Publishing, 1995, p.314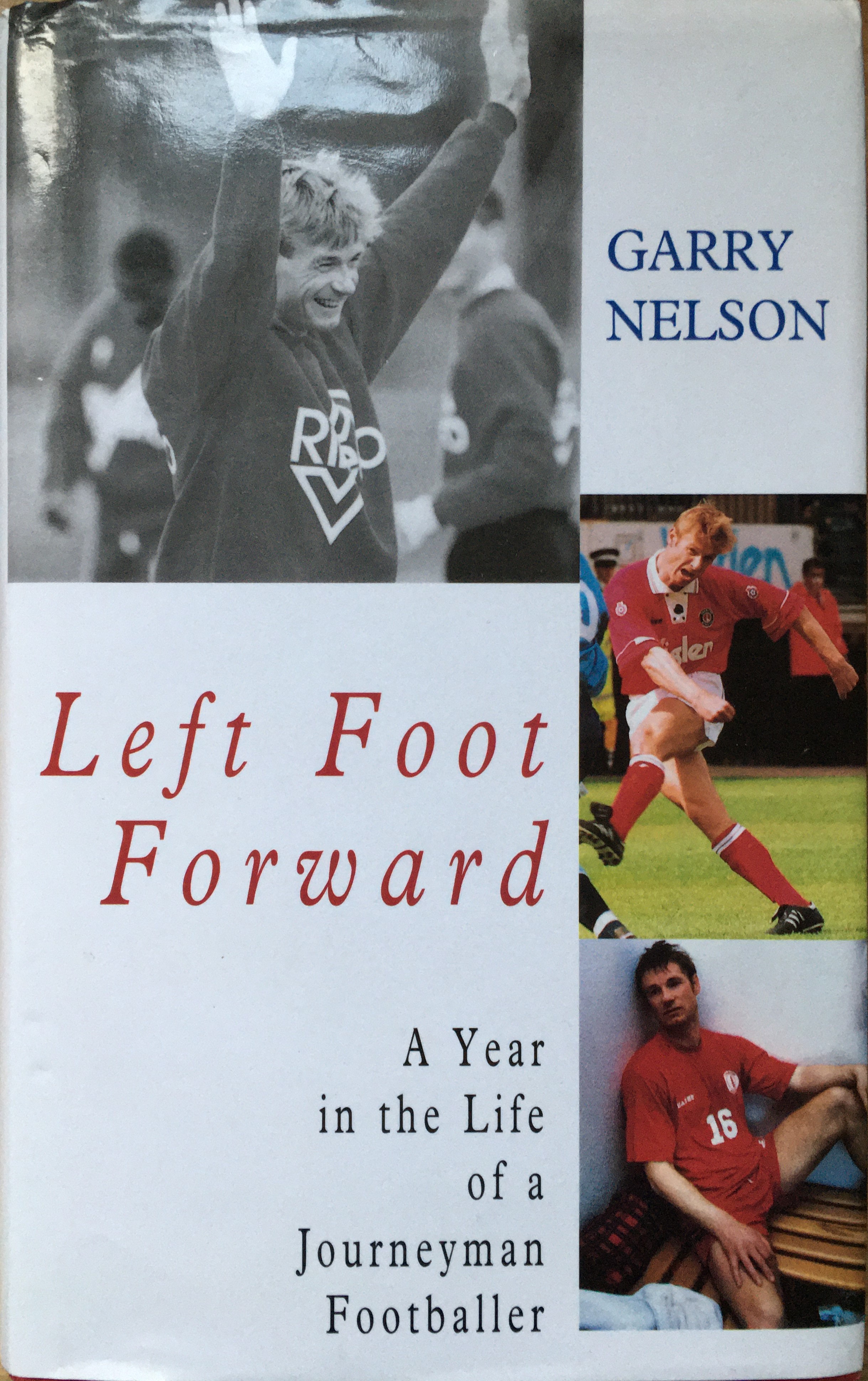 Quote of the Day (4)
Hanwell Celtic / Posted: 14/03/2021
'Something deep in my character allows me to take the hits and get on with trying to win.'
Lionel MessiArgentina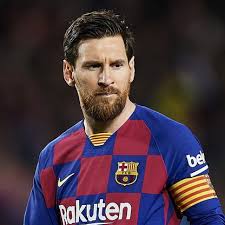 Quote of the Day (3)
Hanwell Celtic / Posted: 13/03/2021
'Team Spirit MUST be fostered if the side is going to achieve anything and the captain can do much towards this if he is given a chance...When Charlton won promotion... we were not a great side...but we had the right spirit developed throughout the club and we won our matches because we WERE a team, in which every man was a vital cog in the machinery.'
Jimmy Seed, Soccer from the Inside, London:Thorsons, 1947, p. 109.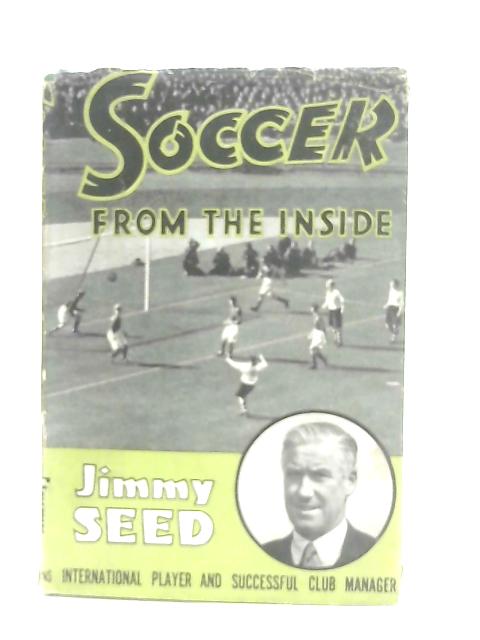 Soccer Schoolmaster No 7 Gerald Mc Crossan
Hanwell Celtic / Posted: 12/03/2021
Gerald Louis McCrossan was born in 1885 in County Tyrone. He was one of 15 children and his father Patrick was at that time the head porter at Omagh Station. The family then moved to Cambuslang in Scotland where Patrick McCrossan got a job in the nail works as a storeman. Louis was a pupil at Our Lady's High School in Motherwell and in 1905 he went to St Mary's College in Brook Green, Hammersmith to train as a teacher. As a youth, before he went to London, he played for Celtic "A. He also, played junior football for Cambuslang.
When he was in London at St Mary's College he played for Brentford FC. He was paid 'off the book' - Brentford have no record of his being 'employed' by the club.
As soon as he completed his probationary year he returned to Cambuslang and was posted to St Andrews RC School in Ropework Lane, Glasgow. a first team appearance at Celtic and joined Albion Rovers in the Scottish Second division. In 1912 he went on trial to Ayr United making his debut in October, 1912 in a Scottish Qualifying Cup 3rd round tie. His first league game (2nd Division) for the club was a week later when Ayr United beat Albion Rovers 1-0. Ironically, McCrossan was at Ayr United on a trial spell from Albion Rovers. In reference to that match the Ayr Advertiser's report stated: "Against his old club mates McCrossan put up a very useful game and with time should serve United well." On the next Saturday (26th October) he was in the team that lost2-1 away to Abercorn at Ralston Park (Paisley) in the Scottish Cup Qualifying 4th round. The resumption of league football (2th November, 1912) saw Ayr United beat Albion Rovers 3-0 at Somerset Park, a further irony. McCrossan's first two league matches for Ayr United were against the club that held his registration. His final match for Ayr United was a league match at Somerset Park on 7th December, 1912. The result was Ayr United 3 Leith Athletic 0. He then returned to Albion Rovers "on the conclusion of his trial spell." In total McCrossan made nine appearances for Ayr United: seven in the league and two in the cup. Ayr United went on to retain the Second Division championship.
>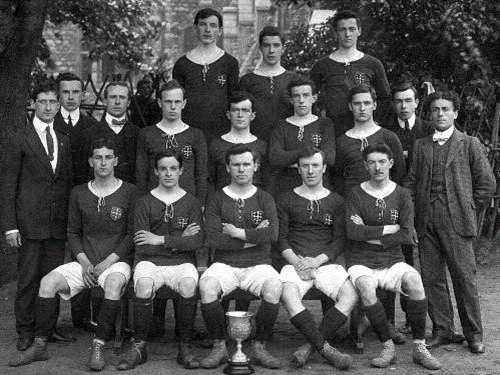 Quote of the Day (1)
Hanwell Celtic / Posted: 12/03/2021
Good morning team. Quote of the day: 'A journey of a thousand miles begins with but a single step.' Mao Zedong.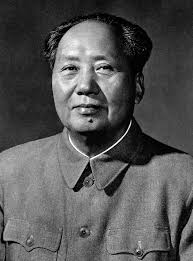 Quote of the Day (2)
Hanwell Celtic / Posted: 12/03/2021
Good morning team. Quote of the day 2: 'The last time we got a penalty away from home Jesus Christ was a carpenter.' Lennie Lawrence Charlton Athletic Manager 1989.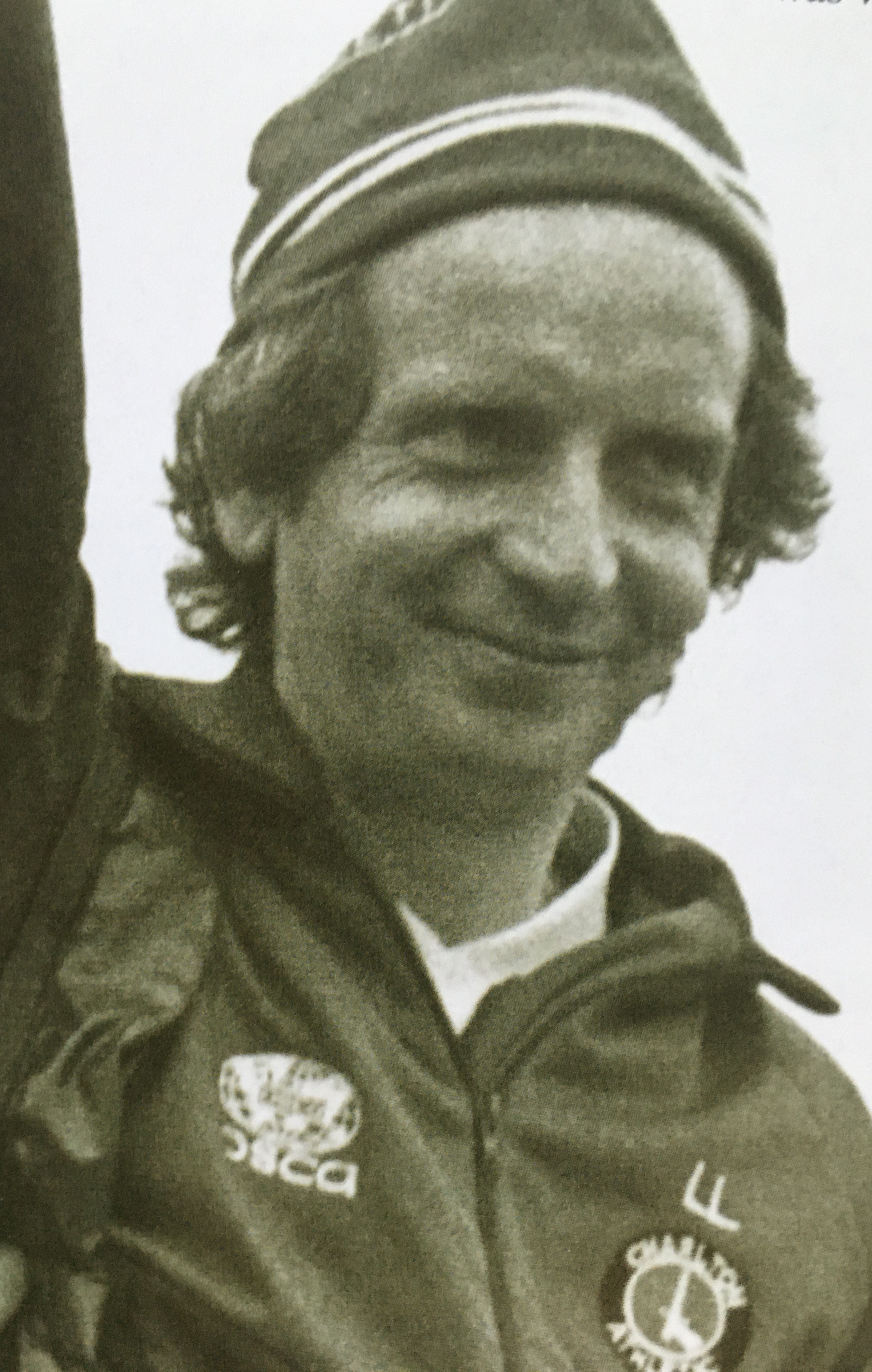 Soccer Schoolmaster No 6 'Handsome' Tom Maley
Hanwell Celtic / Posted: 10/03/2021
Tom Maley was born in Portsmouth in 1865 but later his family moved to Glasgow. He trained as a teacher at St Mary's Training College in Hammersmith between 1885- 6 and he quickly developed a reputation as a fine footballer when he returned to Glasgow playing for Cathcart, Hibernians, Partick Thistle and Third Lanark before becoming one of the founders of Glasgow Celtic and playing in their first ever fixture, a 5-2 victory against Glasgow Rangers in 1888. The original purpose of the club was to raise money for destitute Irish Catholics in the east end of Glasgow.
At 37 his playing days were over he became manager of Manchester City." The club had finished bottom of the First Division with only 28 points from 34 games but Maley's impact on the club was immediate. The club lost only five of the next 34 games and won the Second Division and promotion back to the First Division with four points to spare over Small Heath. Further success followed and the team seemed destined for greatness. They won the FA Cup in 1904 beating Bolton Wanderers 1-0. The club narrowly missed out on 'the double', finishing runners up to Sheffield Wednesday.
Maley returned to teaching and became headmaster of St Mary's Catholic School, Calton, in Glasgow. He remained in that post until 1911. He then returned to management taking over Bradford Park Avenue and securing promotion to Division 1 in 1914.
Maley resigned in 1924, ending his managerial career at Southport in 1925. He returned to his beloved Scotland and in his retirement became a Governor of Slatefield Industrial School in Glasgow. He died in 1935 aged 70. He was one of the best-known Catholic laymen in Scotland in his day and his funeral was attended by 50 priests and thousands of people.
Throughout his life Maley never lost his concern for the poor, nor his conviction that games were a means of providing both health and happiness for the disadvantaged in society. As a young man he helped establish a club whose raison d'ȇtre was the eradication of poverty. In his middle age his football teams played in numerous charity matches and, after his retirement from club football, he became a governor of Slatefield Industrial School where 'he did everything possible for the comfort and health of the boys. Together with Mrs. Maley and his family, he was constantly organising sports and swimming matches for the boys.' A devout Catholic, who raised thousands of pounds for Catholic charities, he 'tramped miles every Sunday to instruct Catholic children in their Faith.' The Glasgow Star commented, 'Of his personal character one cannot speak too highly. He was one of God's gentlemen, endowed with a combination of qualities which won unfailingly the hearts of all and especially those of the young. A man with all the qualities associated with manhood, he was possessed in addition of a sweetness of disposition and a charm of manner which gained for him countless friends in every part of the country.'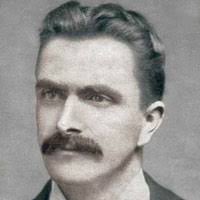 Soccer Schoolmaster No 5 Bertie Fulton
Hanwell Celtic / Posted: 09/03/2021
Bertie Fulton (1906-1979) deserves his place in Ireland's pantheon of sporting heroes. He played 42 times for Ireland at football, 21 of these appearances were for the full national side and the remainder for the Irish amateur team. He represented Great Britain in the infamous 'Nazi' Olympics in Berlin in 1936 and was a coach of the Ireland youth team as well as a summariser on BBC TV for Ireland football matches. During his long football career (he played from 1918 to 1943) he was closely associated with Belfast Celtic, the most famous Catholic football club in Ireland. A committed Catholic, he was very active in his parish of St Comgall's in Larne. He enjoyed a long career as a schoolteacher, eventually retiring as a headteacher after over 50 years of service to Catholic education.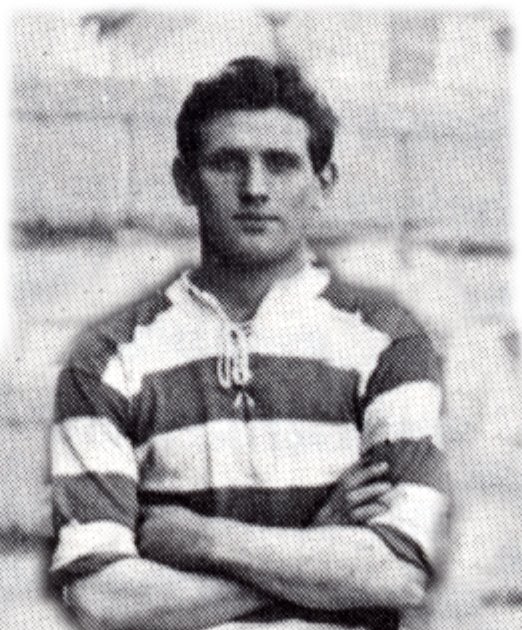 Soccer Schoolmaster No 4 Joseph Holmes Gettins
Hanwell Celtic / Posted: 08/03/2021
Today's footballer, Joseph Holmes Gettins was born in |M|iddlesbrough in 1874 attending Denmark Road Board school. He trained as a teacher at Borough Road College and then taught for a year at Isleworth Grammar School before returning to lecture at the college.
Holmes was an excellent footballer and palyed as an amateur for a number of clubs including Millwall, Middlesbrough, Brentford, Reading Spurs and Derby County although he is most closely associated with m|illwall for whom he scored 69 goals in judst 71 games. He toured South Africa with the famous Corinthians in 1897. In 1907 he was appointed Principal of Reading Day Teacher Training Colleeg and he served in the army in WW! winning the DSO and reaching the rank of Lt Colonel. After the war he worked in the Army Education Corps and was Commander of the Army School of Education from 1931 until his retirement in 1933 in which year he was awarded the OBE.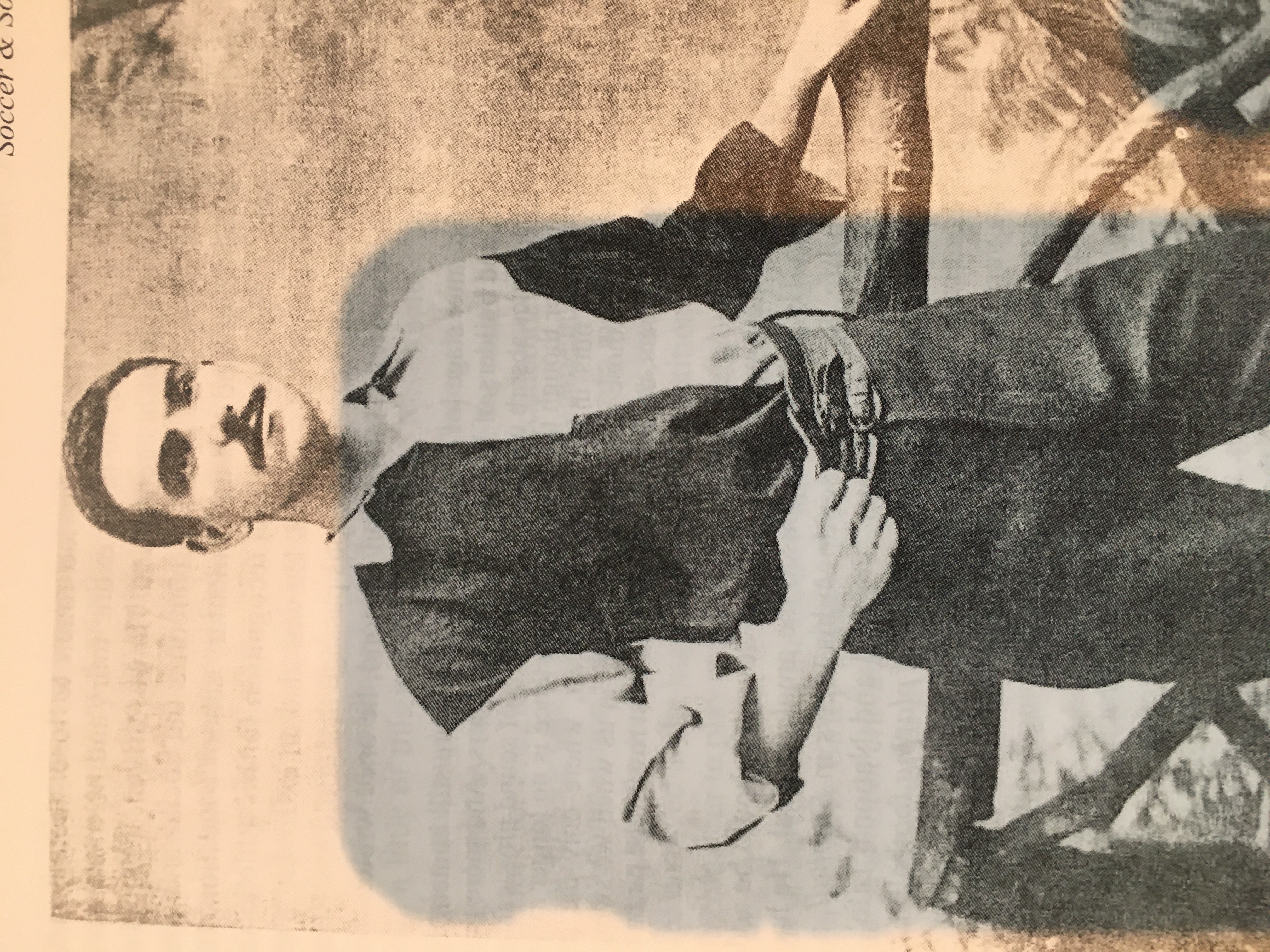 Soccer Schoolmaster No 3 Laurence Cassidy Manchester United and Oldham Athletic.
Hanwell Celtic / Posted: 05/03/2021
Today is the third of my articles on Soccer Schoolmasters and examines the career of Laurence Cassidy who played for Manchester United and Oldham Athletic in th epost war period.
Laurence Cassidy was born in Manchester in 1923 and educated at De La Salle College before going to London to train as a Teacher at St Mary's College in Twickenham. He served in WW2 in the RAF and after the war signed for Manchester United. His main career was a as a Teacher and he taught at St Patrick's Primary school in Collyhurst becoming Headteacher in 1958 retiring in 1983. Two famous Manchester United players Nobby Stiles and Brian Kidd were pupils at the school. During this time he was the manager of Manchester Schools Football XI winning the English Schools Football Trophy in 1974.
Cassidy only played four times for Manchester United, but he was a well respected football figure in MANchester and was always warmly welcomed at Old Trafford where he was where he was the founder member and Chairman of Mancheste United Former Players Association.
Soccer Schoolmaster No 2 Donald Simpson Bell
Hanwell Celtic / Posted: 03/03/2021
Today's soccer schoolmaster is Donald Simpson Bell who was the first professional footballer to enlist during WW1. He also worked as a Teacher in Starbeck Council School. He was a 2nd Lt in the Green Howard's Yorkshire Regiment. He was killed in the Battle of the Somme storming a German trench for which act of bravery he was awarded the Victoria Cross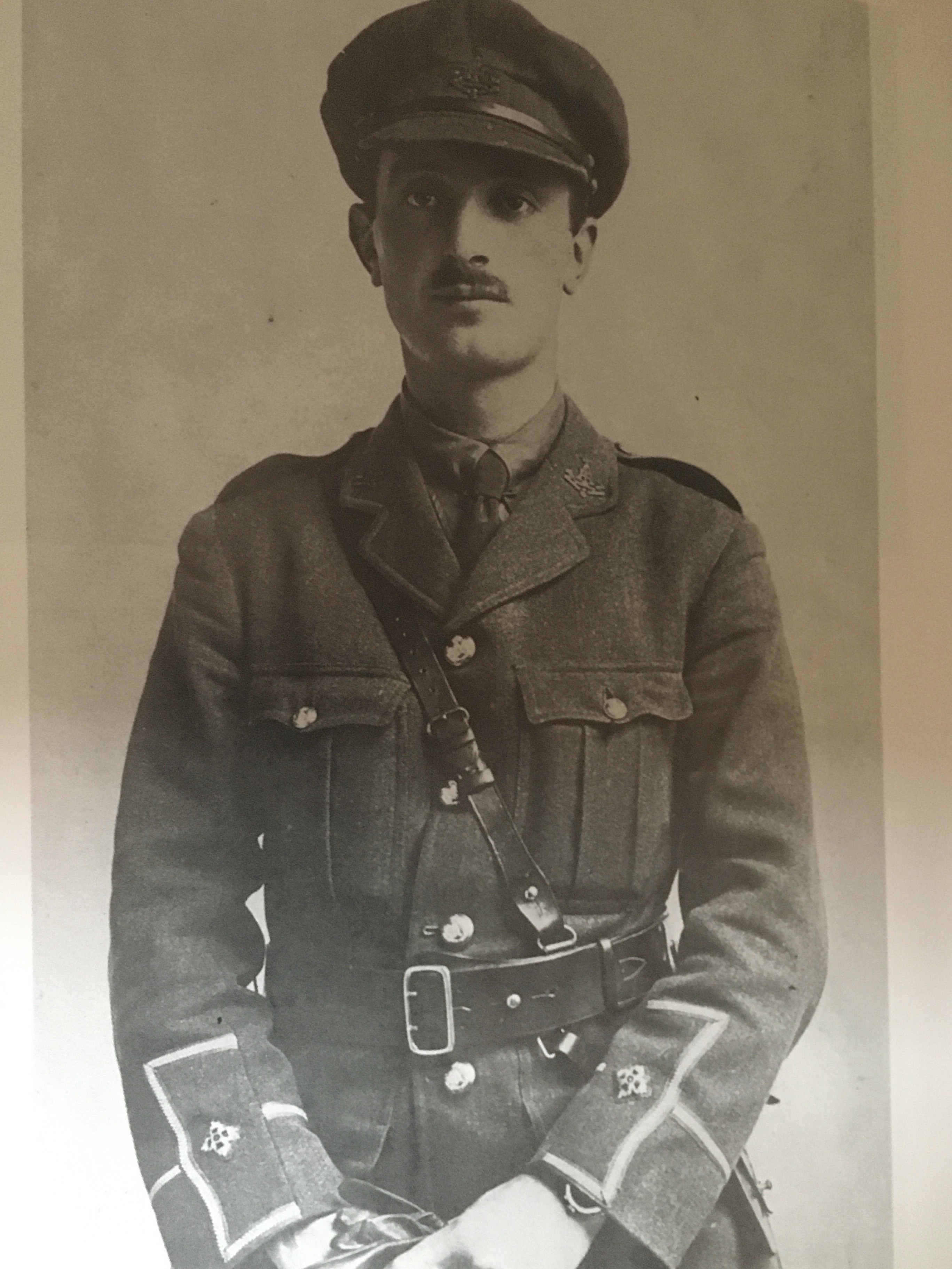 Race Europe
Hanwell Celtic / Posted: 02/03/2021
This is an article I wrote about the Race Europe challenge taht appeared in The Catholic Universe on Friday. I hope you like it.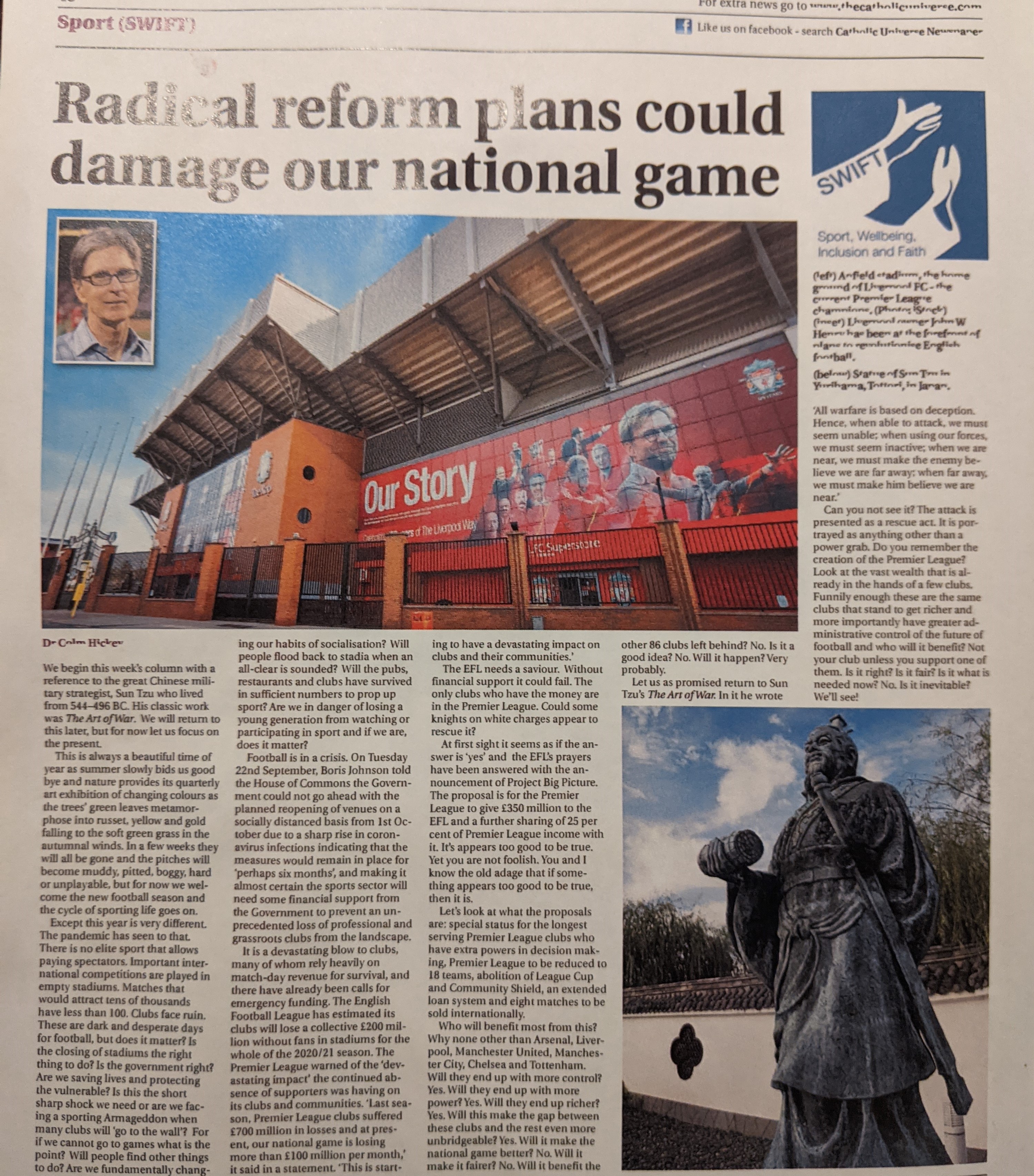 Soccer Schoolmaster No 1 John Adams
Hanwell Celtic / Posted: 01/03/2021
Today, I begin my challenge for Race Europe. I said I will post about inspirational schoolteachers who played at the elite level and made a contribution ot the game. I begin with John Adams. He played for Walsall before becoming a highly respected referee taking charge of the 1903 FA Cup Final when Bury beat Derby County 6-0 in front of a crowd of 63,102 at the original Crystal Palace. He was the Headteacher of the City Road Elementary School in Birming for over 20 years and was a powerful advocate of athleticism - the belief that games playing had a moral as well as physical benefit for schoolboys.